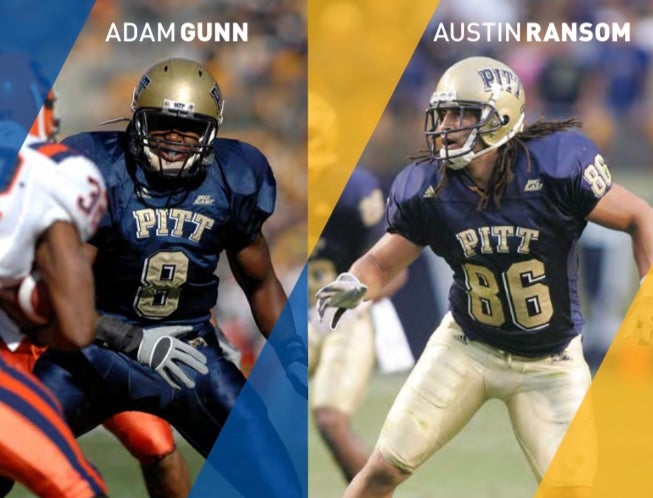 When Austin Ransom (MPA '09) came to the University of Pittsburgh in 2004, he thought his football days were behind him.  Despite a strong high school career in western New York, Ransom had no plans to play for the Panthers when he arrived in Oakland. But it didn't take long for him to feel like something was missing. 
Across campus, Pittsburgh native Adam Gunn (MPA '10) was settling into life on a college football team. Considered one of Western Pennsylvania's top defensive backs during his time at Kiski Area High School, Gunn was also a versatile quarterback, a dangerous combination that brought him to Oakland as a redshirt freshman in the fall of 2004.
Settling into life in Pittsburgh, Ransom couldn't get football off his mind.  So, after connecting with the coaching staff, he began the rigorous process of trying out as a walk-on. By the time he earned his place on the team, training camp had come and gone. Austin would play football for the Panthers, but he'd missed out on key time spent practicing, bonding, and forming friendships with other players. 
Nevertheless, there was a spark between Gunn and Ransom almost immediately, and a deep connection quickly formed. This connection, and the nearly 20-year friendship that began on the field that fall, was the subject of an in-depth profile in this year's summer edition of H2P, the official University of Pittsburgh Athletics Magazine.
"There was just something about him," Gunn explained to Josh Rowntree, author of the piece for H2P. "He was a good guy… someone who you wanted to be around."  They took many of the same classes as communications majors, became roommates as sophomores, and when their football and undergraduate days were behind them, both found their way to Posvar Hall as students at Pitt's Graduate School of Public and International Affairs. 
Gunn graduated with a Master of Public Administration (MPA) in 2009, while Ransom earned his MPA one year later in 2010.  After leaving Pitt, Adam went to work in sales for the medical technology corporation Stryker, where he still works today as the company's director of marketing.  Austin would stay in Oakland for another three years as community relations coordinator for Pitt's Cathy and John Pelusi Family Life Skills Program, but it wouldn't be long until, once again, the two were reunited.  Ransom joined his good friend at Stryker in 2014, working for several years in North Carolina before coming home to their Pittsburgh offices in 2020 as a regional manager in the division of sports medicine.
Today, nearly two decades after their friendship began playing for the blue and gold, Austin Ransom and Adam Gunn remain close.  The days of sharing a house in Oakland may be long gone, but the two, along with their wives and a combined five children, live just down the street from each other in the suburbs outside of Pittsburgh.  The families have been known to vacation together, and Ransom is even credited with introducing Gunn to his now-wife, Lindsay, a Pitt alum and Stryker employee herself.  
From roommates and teammates to coworkers and neighbors, it's safe to say that their time at Pitt has impacted the lives of Austin Ransom and Adam Gunn forever. For more a deeper look at the story of this special friendship, check out the full article by Rowntree for H2P here (page 36!).