It's set for a January release, and we can't wait to read it. GSPIA Professor Jeremy Weber's new book, published by University Chicago Press, will be available in early 2024.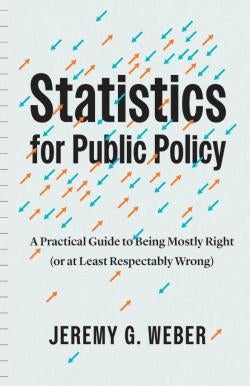 Statistics for Public Policy: A Practical Guide to Being Mostly Right (or at Least Respectably Wrong), is a guide on how to use statistics to bring clarity, not confusion, to policy work. According to the official site, the book "dispenses with the opacity and technical language that have long made this space impenetrable; instead, Weber offers an essential resource for all students and professionals working at the intersections of data and policy interventions," the publisher write. "This book is all signal, no noise."
Hear from the author yourself! This Q & A with Dr. Weber covers the why, what, who and how behind the book.  
What motivated you to write the book?
I wrote the book because my teaching and policy experience highlighted a need for statistical mentorship. Many students and practitioners need a bridge between what their statistics textbooks provided and what is needed as the chief of staff for a council member or as the analyst for the department of health. To quote a line from Chapter 1: After her stats class, a student can calculate the lead concentration in the drinking water of the average sample home, the concentration at the 90th percentile, and the percentage of homes with concentrations over a certain threshold. But classes rarely equip us to discern which of the numbers matters the most or to argue that the city has a lead problem. I wanted to develop a resource that could equip people along these lines.
Are statistics even important for public policy?
Statistics are simply summaries of many observations of people, schools, forests, or whatever we're talking about. The alternative to statistics is to make claims about what is common or rare based only on the conversation with your neighbor, the interview you saw on the news, or other anecdotal evidence. In the book, I argue that statistical claims are with us always, with or without statistics. Take away statistics and people will still make claims about the rich paying little in taxes or the poor abusing government programs and so on. If we're going to make statistical claims—and have them inform policy—it is better that we tether them to…statistics!
Who should read it?
Probably you. People in diverse fields will be helped by it, whether that is public health, education, journalism, administration, economics or policy. Most of the book is accessible to the average newspaper reader and will give her many practical insights. There is also much in it for the statistically advanced. When I worked at the White House Council of Economic Advisers, even established academics often needed several months to adjust to the policy world and refocus on competently applying the basics. When you're accustomed to speaking to only those in your academic field, it is easy to lose (or not develop) the ability to communicate well with very busy non-experts.
If you could recommend only one chapter, what would it be and why?
That's a hard question, like asking me to say which of my kids I like best! Much thought went into every chapter, and I like each for different reasons. The one that might most benefit most people is Chapter 5: Know Large From Small and Explain the Difference. We are bombarded with statistics about test scores falling or temperatures hitting records, about coffee raising my risk of cancer or wine reducing it, and so on. Most of us, including people adept at crunching numbers, are poorly equipped to assess whether a number is large or small, alarming or ignorable. Chapter 5 equips you to choose the right adjective to put next to the number and have good reasons for the choice. The more that people do this well, the more that we will direct our attention from minor issues to pressing problems.  
How did your experience teaching GSPIA students shape the book?
The idea for the book began percolating in my mind soon after I began teaching GSPIAs Introduction to Quantitative Methods course. Since then, other classes have informed the book, especially my Policy Analysis class and my capstone classes that had as clients the Pennsylvania Department of Environmental Protection and the federal Government Accountability Office. The book addresses areas where I've seen textbooks (and my own material) fall short in equipping students. The more I've taught at GSPIA, the more I've focused on helping students master the basics. We don't use what we don't firmly grasp because we fear making an embarrassing and perhaps costly mistake. And if students are not using what I'm teaching them, I'm not serving them well. Thus, the whole book is dedicated to helping the reader develop what I call wielding knowledge, which is knowledge we hold firmly enough that we are confident to use it where money or health or reputation are on the line.