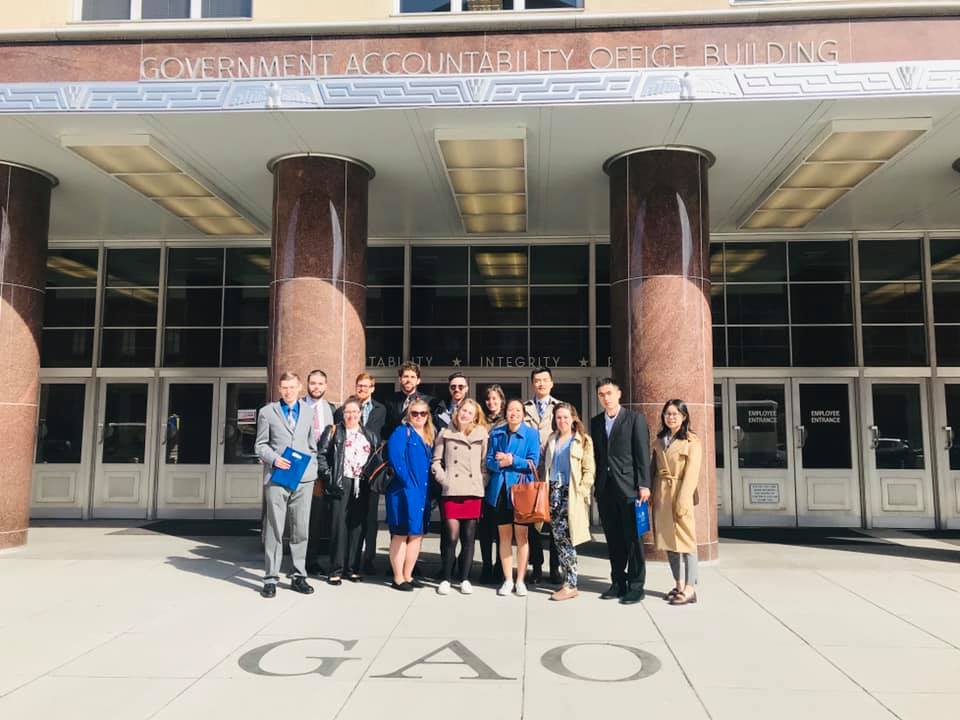 It's always a great day when we welcome our alumni back to Posvar Hall.  Josh Timko (MPIA '21), Mairé Gebhard (MPIA '22), Mario Tiberie (MPIA '22), and Matt Whalen (MID '20) work as analysts at the Government Accountability Office (GAO) and returned to campus to host an information session about the agency. The group discussed what it's like to work at GAO, they outlined their paths from the classroom to their current jobs, and they offered recommendations for current students looking to work for GAO in the future. 
The value of experience and intellectual curiosity
Mairé Gebhard and Mario Tibere participated in the agency's paid student internship program while graduate students at Pitt, and highlighted how rare it was to find an internship that offered both valuable experience and a competitive salary while still in school.  They advised prospective internship applicants to mention any kind of research or data collection experience on their applications, as well as teamwork, collaboration, and if they are part of a Pitt research initiative such as the Ford Institute or Ridgway Center.
"The bottom line is curiosity," said Joshua Timko while discussing the skills most beneficial to those interested in pursuing a career with the GAO. Timko, who was part of the two-year Professional Development Program (PDP) and as a new analyst at the organization, described his experience reading reports about tsunami formation and visiting Coast Guard stations in the Pacific Northwest during his first month on the job - topics significantly removed from anything he had studied before. "Regardless of what team you're on, every single topic is going to be niche and is going to be new… Most people who work at GAO have that intellectual curiosity, and I imagine for a lot of you, really for people at Pitt, we all have that curiosity as well."
Setting yourself up for success
The presenters took questions following their talk, offering advice on building a federal resume on USAJobs, drafting answers to assessment questions in their applications, and what kind of classes at Pitt would help prepare them for the kind of work they'd be doing at the agency. "I'd say the research and critical thinking skills learned here helped generally," said Whalen when asked how his time at Pitt helped prepare him to work at GAO. "Any type of class you could take where you're writing those kinds of policy memos, very concise and technical writing, would be very helpful for working at GAO," added Timko.
A federal agency focused on accountability and the people
The GAO is a nonpartisan, independent agency that helps improve the performance and ensure the accountability of the federal government through reports and testimonies. It has been ranked #1 among mid-sized federal agencies in the Partnership for Public Service's 'Best Places to Work' rankings for the past three years. The agency prides itself on a culture of diversity and inclusion and the promotion of work/life balance, with benefits including flexible work schedules, a pay system that rewards performance, and opportunities for continuous learning all named as benefits by employees. Comprised of 15 different mission teams divided to cover facets of government spending from education and information technology to healthcare and climate change, analysts can often find a role specific to their interests and skills- or develop new areas of interest through their work. 
While headquartered in Washington, DC, and maintaining field offices in 11 major cities across the United States, many of the agency's nearly 3,000 employees are fully remote. Timko, Gebhard, Tibere, and Whalen all live and work remotely in the Pittsburgh area.
Current students interested in learning more about the GAO will have the opportunity to visit the agency headquarters during the school's annual DC career visit in the spring.