It all started with a shopping trip. Drs. Eliada and Nosakhere Griffin-EL, PhD power-couple who met during their doctoral studies at Pitt, went looking for children's books with Black protagonists for their two young sons—but their local bookstores offered limited, uninspired options. 
So the Griffin-ELs took matters into their own hands and, with research, sought out quality stories that weren't circulating in the mainstream stock of local stores. They then shared their findings on social media as a resource for other parents. 
"We realized that many parents of African descent were just like us!" said Dr. Eliada Griffin-EL (MID '04, PhD, '10). "They wanted books with great storylines that featured Black characters solving problems, going on adventures, using their imagination, pursuing their dreams, being creative, and bringing joy and happiness into the world." 
Luckily, the Griffin-ELs—scholars, educators, and parents—had the passion and expertise to make a change.  
Earlier this year, the couple founded the Young Dreamers' Bookstore, a mobile book retail startup providing a selection of inspiring children's books, curated with care, featuring stories that herald protagonists of African descent from across the globe.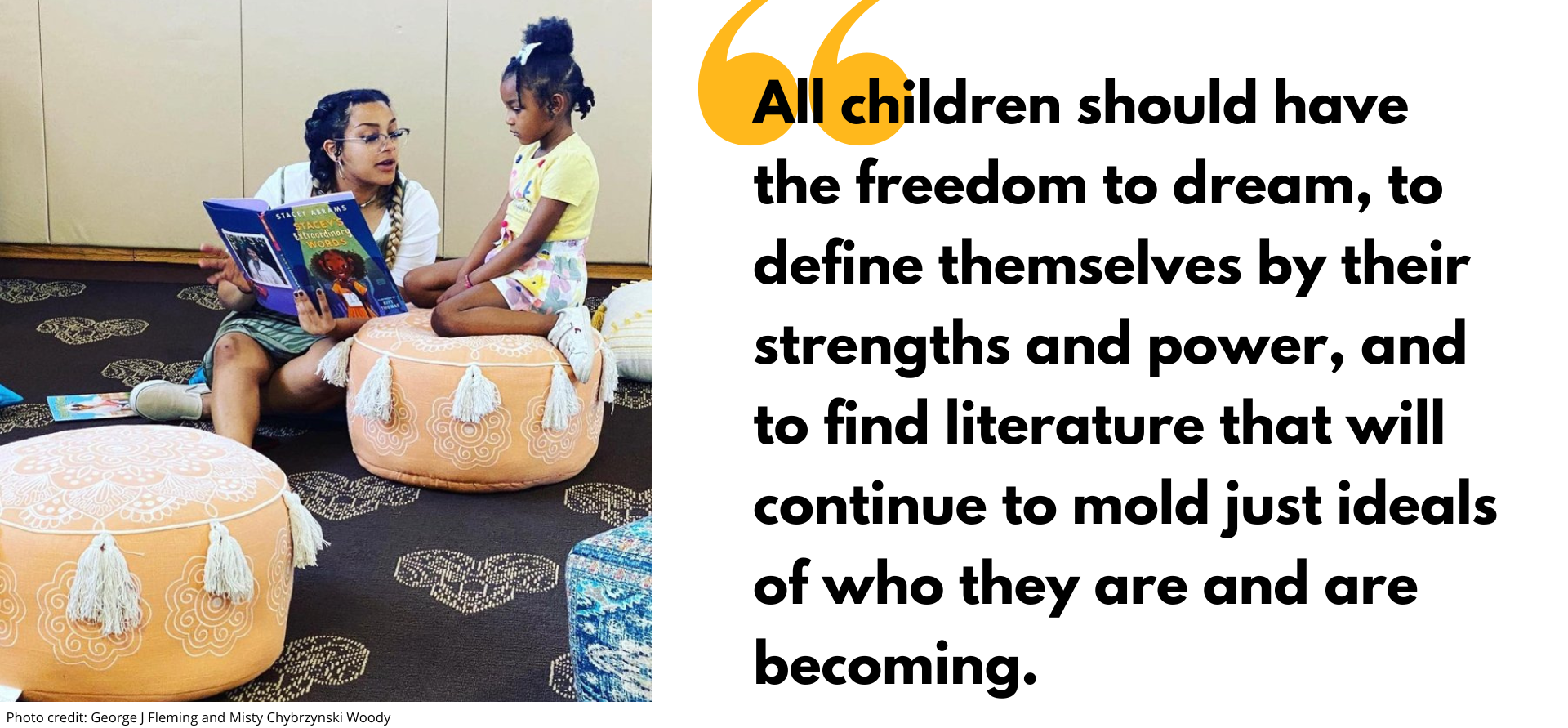 "We realized that for families across cultural backgrounds, these books serve as inspirational tools to invoke a sense of agency in their children," says Dr. Eliada Griffin-EL. "Hence, we prioritized elevating such books and their talented authors in the Young Dreamers' Bookstore as a reliable hub of books that meet children at their dreams." 
Dr. Eliada Wosu Griffin-EL has been a scholar and professor of entrepreneurship for more than a decade. She earned both her Masters and PhD at GSPIA; upon graduating in 2010, she spent 6 years teaching in South Africa at the University of Cape Town's Graduate School of Business as the founding Academic Lead for the Bertha Centre for Social Innovation and Entrepreneurship. Currently, she is an Associate Professor of Management and Director of the Massey Center for Entrepreneurship at Robert Morris University's School of Business. 
Combined with Dr. Nosakhere Griffin-EL's background in Education (Pitt School of Education, '11), the bookstore represents the collision of their shared passion for entrepreneurship and education. 
"I have drawn inspiration from practicing what I teach my students," said Eliada. "Like so many entrepreneurship educators, I also draw from the well-cited theory of Effectuation, reminding my students (and myself) that although the future is uncertain, we can shape it with what we can create, and we hold the vital ability to start with using what we have at hand. This thinking is what led us to launch the bookstore as a pop-up store." 
The "pop-up," or mobile store, allows entrepreneurs to engage with their market directly and facilitate sales with minimal concern for steep overhead costs. They can meet their customers where they are. 
The Young Dreamers' Bookstore has just begun making pop-up appearances in local Pittsburgh book events. They've recently taken part in the Carnegie Library Summer Reading Extravaganza, the Greater Pittsburgh Festival of Books, and the August Wilson Block Party. They have even expanded their reach across state lines, taking part in the African Christian Fellowship Bi-Annual East Regional Conference in Maryland.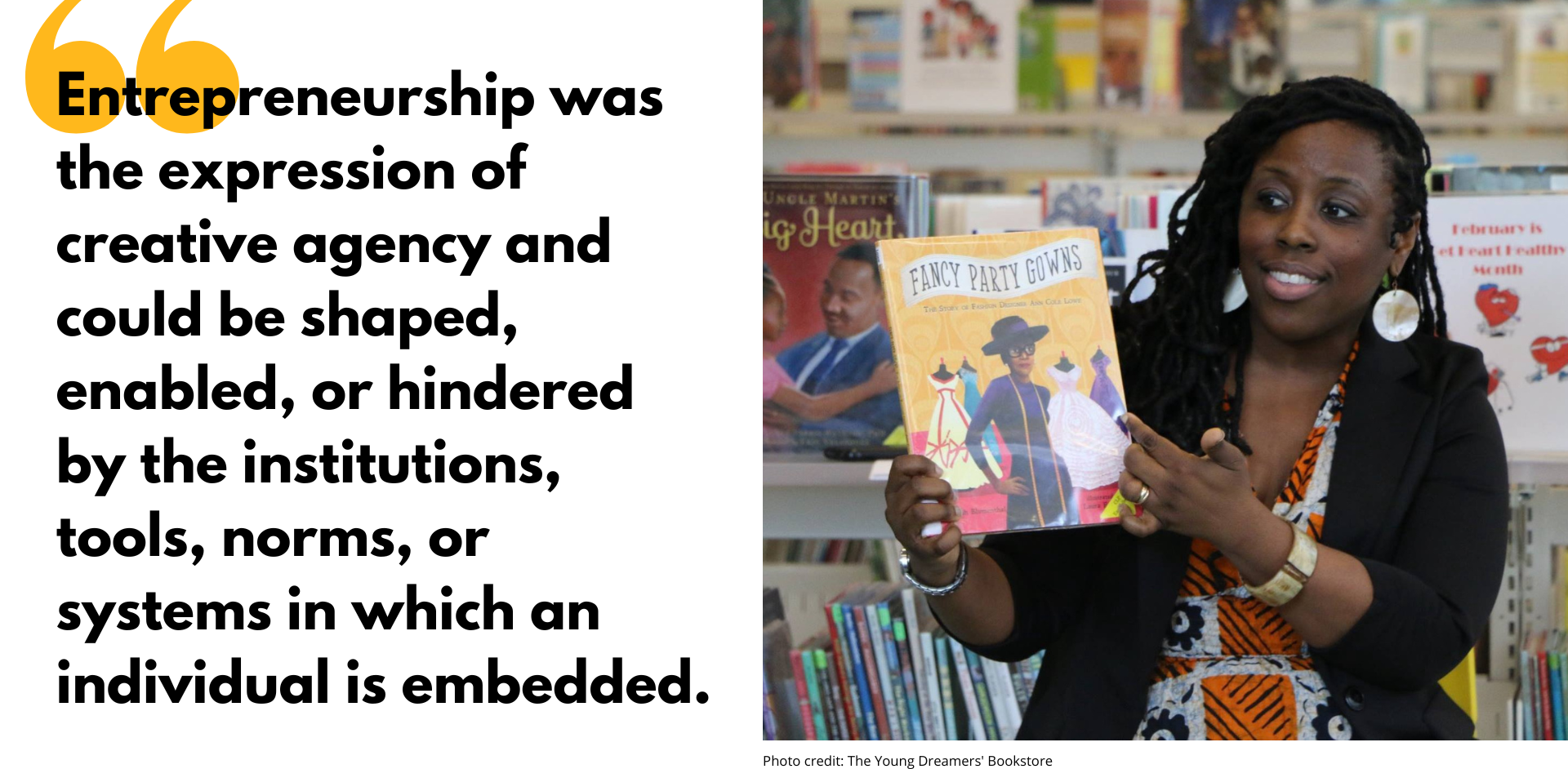 "At one of our recent pop-up bookstores, a kid looked at all the books and couldn't seem to find one he liked. We asked his mother, 'What does your son want to be when he grows up?' She responded by saying, 'An engineer like his dad.' Immediately, we located a graphic novel that featured a superhero who was an engineer. The boy excitedly clutched the book, which his mother gladly purchased!"   
Directly assisting teachers, parents, and community leaders is the most valuable part of the Griffin-ELs' business model. 
"We prioritize getting to know those who we serve and approaching the business with a design-thinking lens," said Eliada. "Here, my original research in entrepreneurial networks of small-scale businesses has led us to be intentional in building the right business relationships while also honoring the personal and friendly relationships which offer much support, insight, and legitimacy." 
"GSPIA is where I fell in love with the world of entrepreneurship," said Eliada. At GSPIA, she explored the connection between entrepreneurship, innovation, and economic development through the lenses of economic sociology. "I was curious as to how entrepreneurial activity, at any scale, can reshape local economies to be inclusive and vibrant." 
As a student, much of Eliada's research took place in South Africa, where she would later become a professor. She credits her advisors and professors at GSPIA for guiding her scholarship. 
"In my studies, I learned the power of human agency to drive the development of local society. To me, entrepreneurship was the expression of creative agency and could be shaped, enabled, or hindered by the institutions, tools, norms, or systems in which an individual is embedded." 
When Eliada married Nosakhere and continued living and teaching throughout the globe, the role of education as a crucial agency-defining element became a shared focus.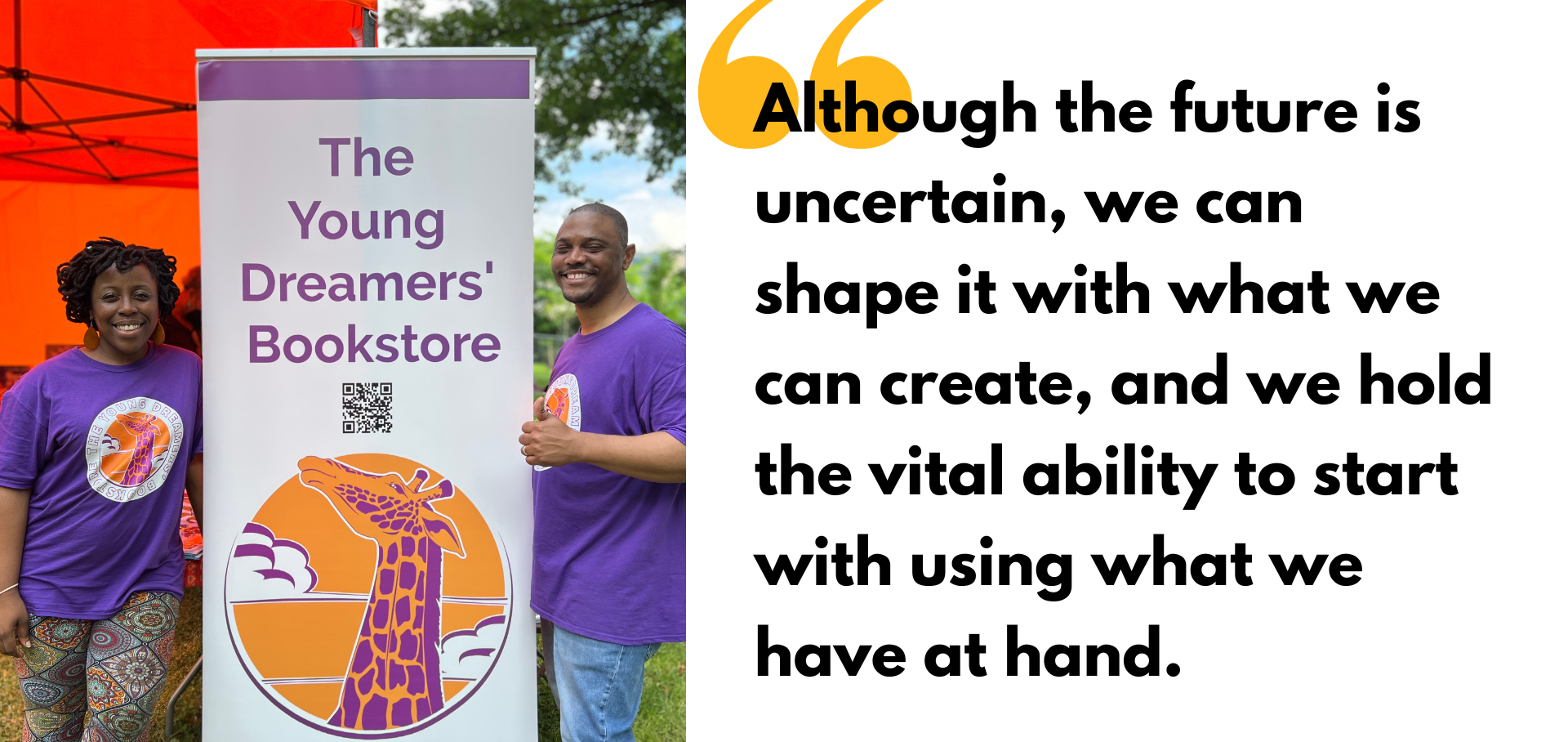 "We see the collection of books we carry as resources for caregivers to define the learning environments within their homes or classrooms or community centers for young dreamers," she said. 
One of Eliada's most profound memories of GSPIA is being introduced to Amartya Sen's classic text Development as Freedom, who describes how "development" is much more than economic increase. It is about obtaining the freedom to live and thrive.  
"My husband and I apply this to the mission behind the bookstore," said Eliada. "All children should have the freedom to dream, to define themselves by their strengths and power, and to find literature that will continue to mold just ideals of who they are and are becoming." 
---
Learn more about the Young Dreamers' Bookstore on their website. Their online bookstore will be open in Fall 2022.