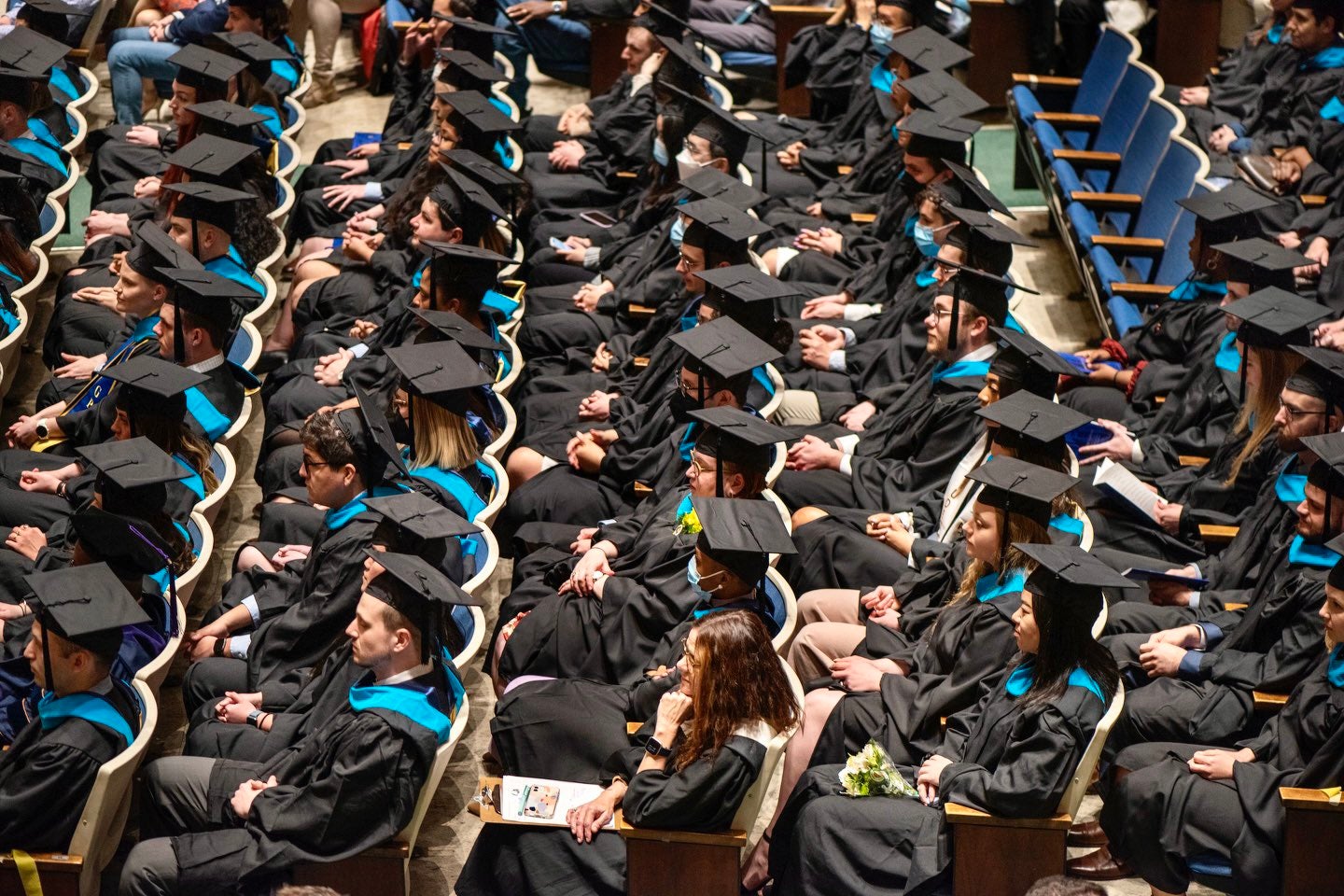 On Thursday, April 28, GSPIA graduates, faculty, staff, friends and family gathered in Soldiers and Sailors Memorial Hall to celebrate the Commencement of the Class of 2022.  
Leading the Processional was the Shona Sharif African Drum and Dance Ensemble, part of Pitt's Department of Africana Studies, who kicked off the festivities with upbeat drums; the audience clapped along as the Class of 2022 entered the auditorium in their regalia.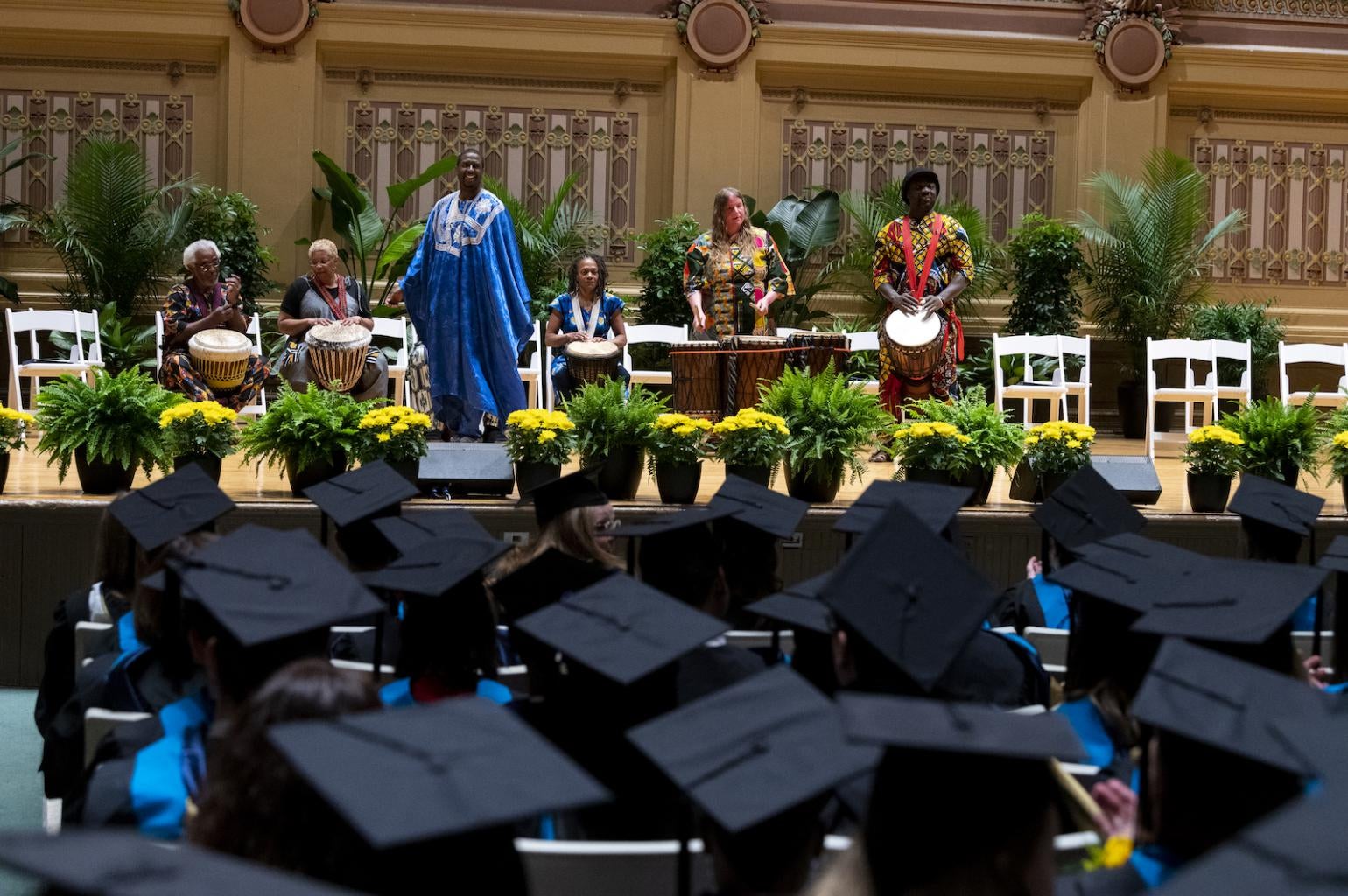 The first in-person ceremony since pre-pandemic times, some graduates from the Class of 2020 and 2021 also attended to celebrate the completion of their degrees in the company of the GSPIA community. 
"Despite the start of your graduate education being fully online, you found ways to connect with faculty, staff, alumni, and each other," said Dean Carissa Slotterback in her Welcome Address. "Each of you is leaving with resilience, resolve, and so much to be proud of."  
"Whenever you need it, you have a supportive community at GSPIA cheering you on, always," 2021 Student Cabinet President Anisha Mallik reminded the Class in her Student Address. 
Award-winning students, honored for their outstanding achievements and commitment to the School, were acknowledged and given their certificates (listed at the bottom of this article). 
Sloane Davidson (MPPM '17), founder and CEO of Hello Neighbor, inspired the crowd with her Commencement Address. "Taking action, graduates, is an important life lesson. Humanity is waiting for us, not to hear about what we want to do — but about what we're going to do," she said.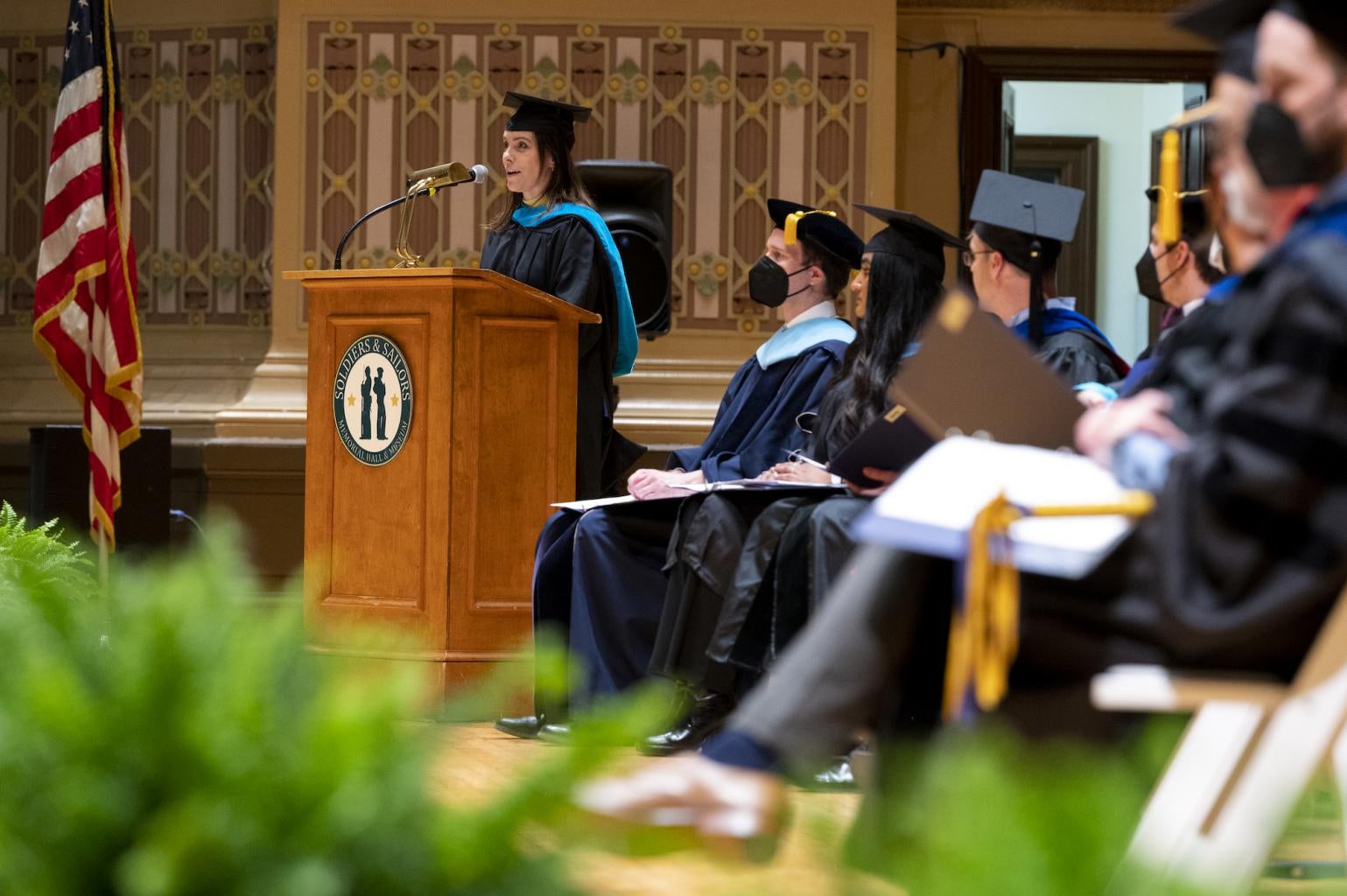 Davidson shared how her time at GSPIA led her to take action herself, by starting her nonprofit which houses, supports, and integrates refugees into the Pittsburgh community. In her speech, she emphasized the importance of cultural humility--we also have much to learn from refugees and those from different backgrounds. 
Davidson asks the graduates, "How can you bring cultural humility with you? How will you stay humble, and remind yourself each day of your place in the world while still pursuing excellence?" 
Dean Slotterback says that 2022 graduates take with them "that deeper sense that you're part of something that's even bigger — a community of graduates, scholars, practitioners, that will shape the organizations that you work for, and the communities that you live in." 
A recording of the ceremony can be viewed on GSPIA's YouTube channel here: https://youtu.be/t30o_qH8afQ. 
Congratulations to all the graduates!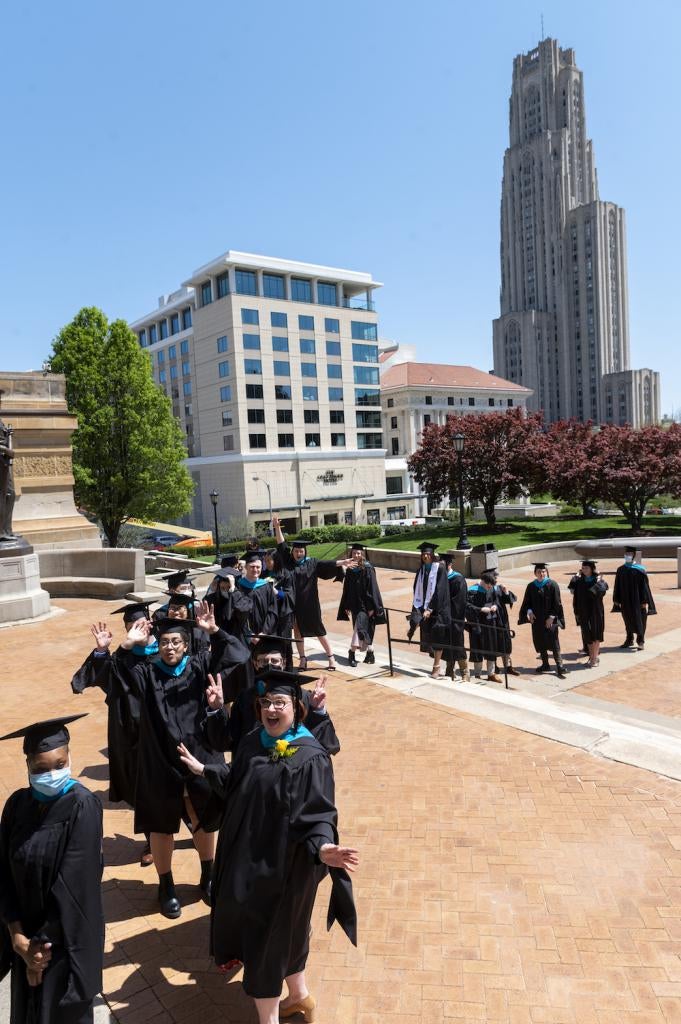 Graduation Awards  
MID Program Dean's Award: Katrina N. Lenhart 
MPIA Program Dean's Award: Laura Short  
MPA Program Dean's Award: Mikaela A. Chandler  
MPPM Dean's Award Daniel M. Pisaniello  
Endowed Awards with Special Focus 
Taraknath Das Foundation Prize: Caroline Kimbro, for an outstanding paper on a subject relating to Asia, "Secondary Degree Program for Afghan Refugees in Karachi".  
Gloria Fitzgibbons Memorial Award: Uchenna Mbawuike, for GSPIA women graduating in the Public Administration or Public Policy and Management program who are deemed to have the potential to become a recognized public administrator.  
Kevin Morrison Memorial Award: Marilu Nunez Palomino, for the most outstanding student in statistics and quantitative methods during the academic year.  
David E. Oeler Award: Mikaela A. Chandler, for an outstanding student in the field of information systems.  
Simon Reich Human Security Writing Award: Joshua A. Lascek, for best research or policy paper on human security topic, "Civil War in El Salvador".  
Sergeant James "Rip" Taylor Memorial Award: Ethan N. Copperman, Mia L. DiFelice, Mario D. Tiberie, and Natividad Zavala, for a student who exemplifies Sergeant Taylor's spirit of public service and academic achievement.