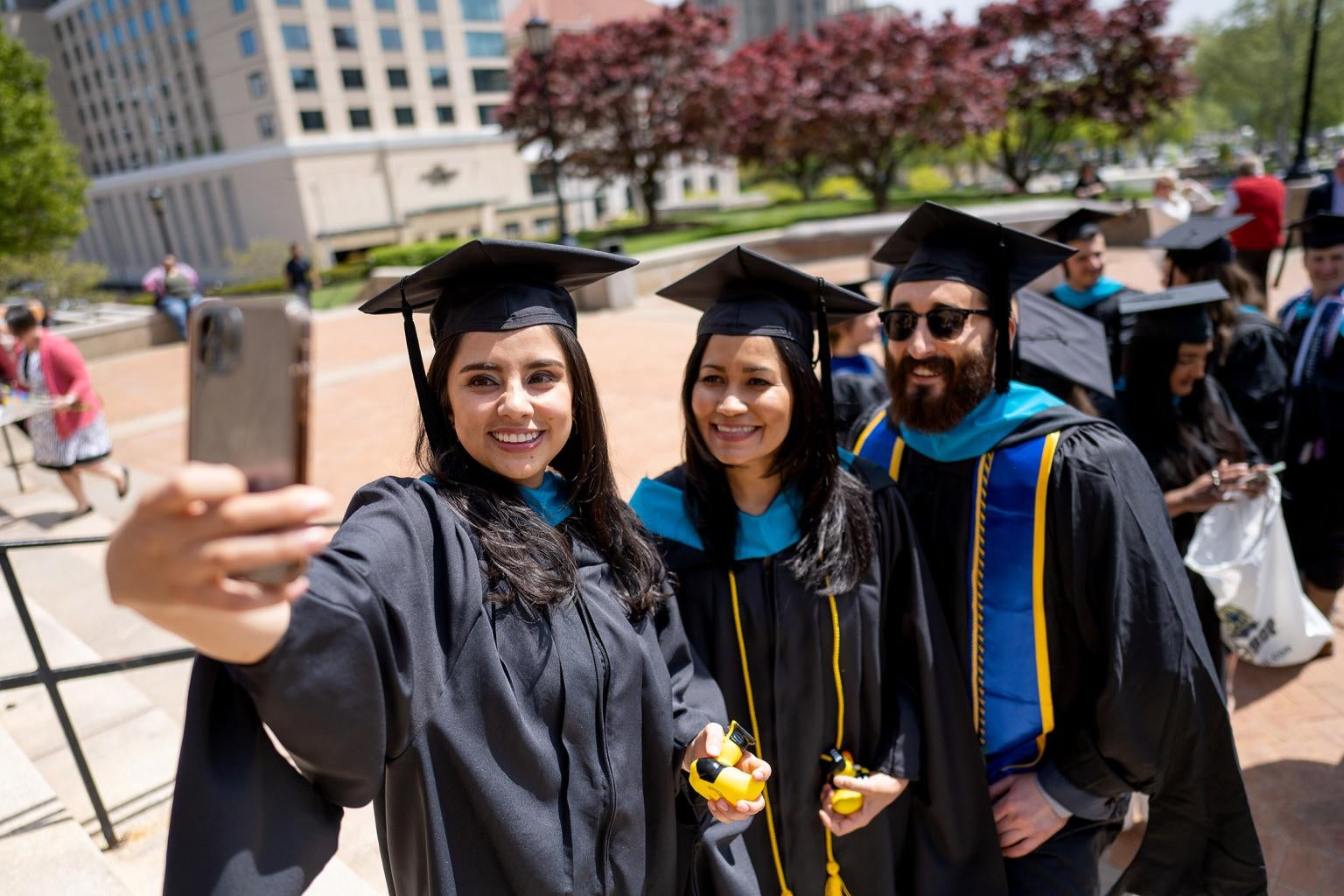 On Thursday, April 27, GSPIA graduates, faculty, staff, friends and family gathered in Soldiers and Sailors Memorial Hall to celebrate the Commencement of the Class of 2023.  
The Abafasi African Drum Ensemble kicked off the festivities by leading the processional of graduating GSPIA students to upbeat drum rhythms. 
"You came here because you want to have careers and lives of impact," said Dean Carissa Slotterback to graduating students.  
"I've seen our students be incredibly active members of our community," she continued, "growing their research skills through work with the FBI and the UN Development Program, building their policy and advocacy practice with communities in Pittsburgh, at Davos, and at the UN Water Conference; sharing their work through the Pitt Policy Journal, serving our country as members of the military, and serving in elected office; pushing for change in our own school through the International Student Organization and the Students of Color Alliance, and supporting each other along the way."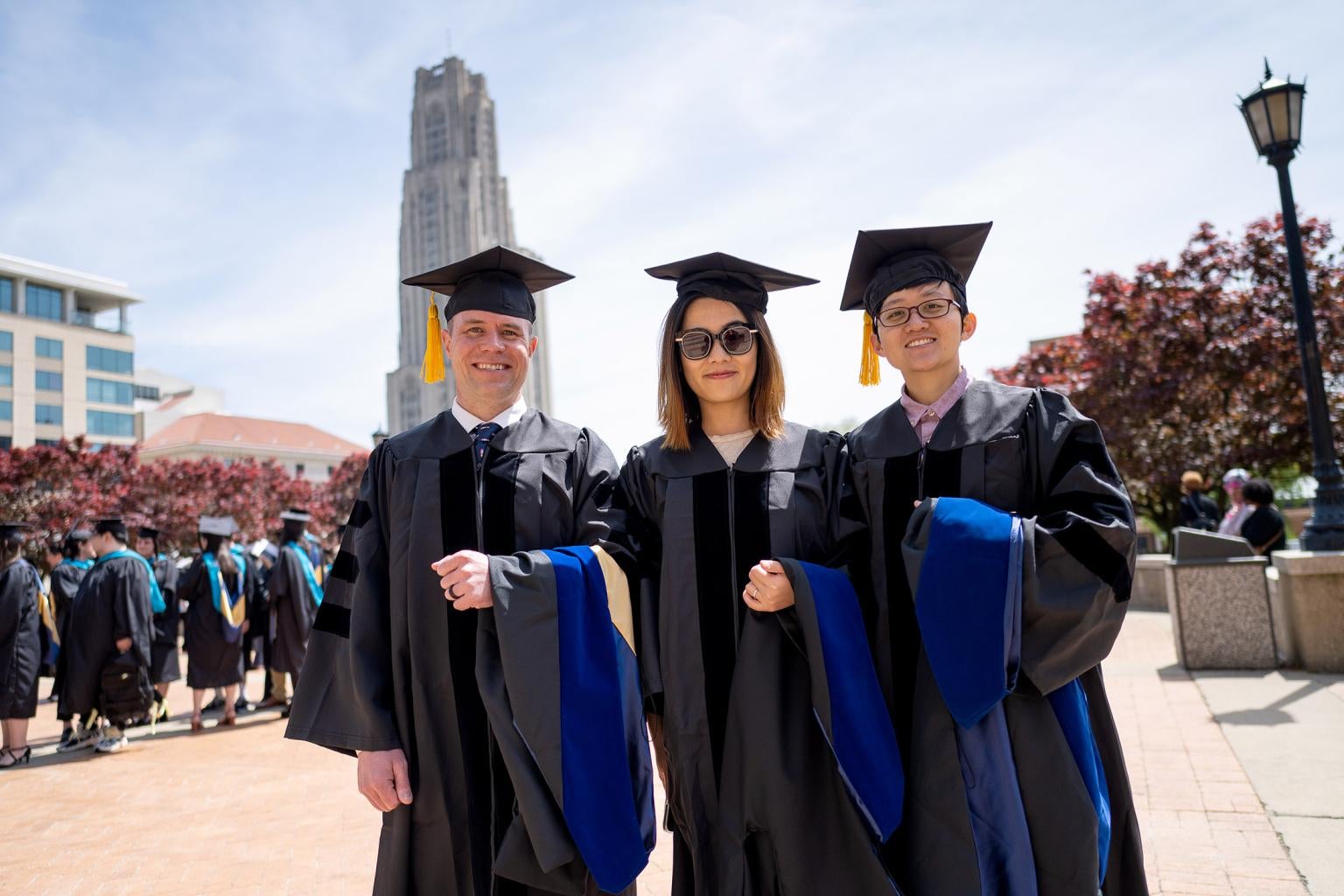 Award-winning students, honored for their outstanding achievements and commitment to the School, were acknowledged and welcomed to the stage amid applause.  
"We are living in a time of great change, and the world needs leaders who are committed to tackling the most pressing issues that face our society, from climate change to social justice, from international relations to public health," said Jordyn Kamasa, the outgoing Student Cabinet President, in her Student Address.  
"But we must also remember that leadership is not just about individual achievements or success, but about serving others," Kamasa continued. "As public servants, we must be guided by our commitment to the common good and be willing to put the needs of others before our own."
Sundaa Bridgett-Jones (MPIA '95), Vice President for the Americas and Chief Partnerships Officer at The Global Energy Alliance for People and Planet (GEAPP), then took the podium to deliver the 2023 Commencement Address. 
"GSPIA gave me the skills to hone my passions to make an impact in a global context," said Bridgett-Jones as she shared her own inspiring professional journey. 
She told the graduating class, "You will be agents of change—who shape policies, negotiate agreements, and mobilize coalitions to drive just outcomes. You will be the architects of a more sustainable and equitable future for generations to come." 
The full ceremony was livestreamed and available to watch on demand at GSPIA's YouTube channel. 
Congratulations to all the graduates!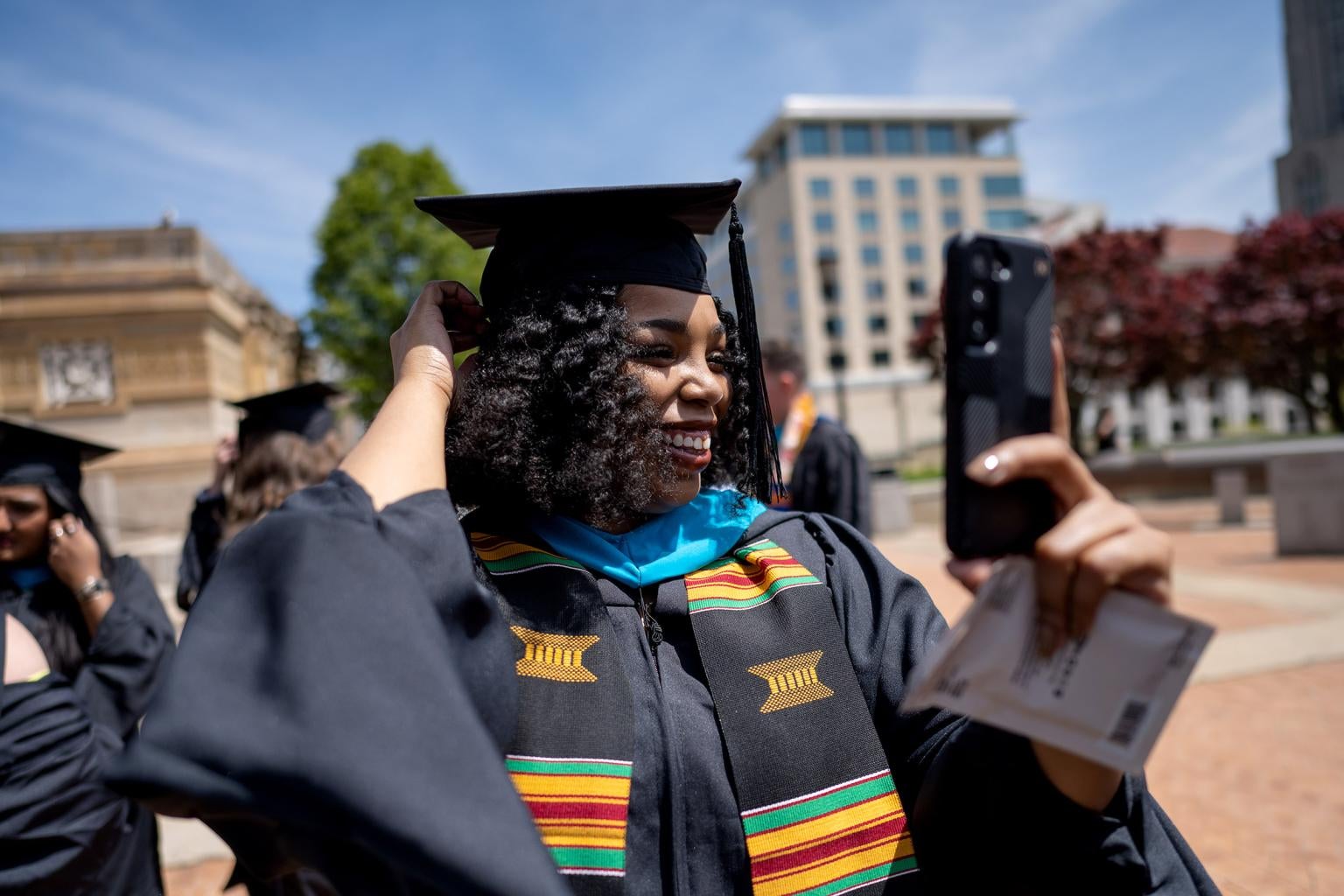 Graduation awards: 
MID Program Dean's Award: Reece C. Dolbin 
MPIA Program Dean's Award: Jamie F. Horowitz 
MPA Program Dean's Award: Alexis N. Boytim 
MPPM Program Dean's Award: Justin J. Sypolt 
Endowed Awards with Special Interest 
Taraknath Das Foundation Prize: Anisha Mallik & Victoria Hans 
Gloria Fitzgibbons Memorial Award: Hannah R. Genovese 
Kevin Morrison Memorial Award: Emily Migdal 
David E. Oeler Award: Joseph C. Marlitt 
Simon Reich Human Security Writing Award: Jessie C. Biltz 
Sergeant James "Rip" Taylor Memorial Award: Jordyn Kamasa, Carla Gomez-Briones, Olivia E. Bennett, & Eliana Beigel