In a highly attended Q&A event, three-time U.S. Ambassador Marie Yovanovitch (ret.) visited GSPIA to discuss her 33-year career in the U.S. Foreign Service, most recently in Kyiv as the U.S. Ambassador to Ukraine. During her visit, Yovanovitch also connected with GSPIA students, undergraduates, and community members with ties to Ukraine.
Listen to the entire conversation moderated by GSPIA Dean Carissa Slotterback, where Yovanovitch reflects on the arc of her fascinating life and courageous career in foreign policy and diplomacy--including its highly publicized culmination under the Trump Administration.
Or, if you're looking for a quick dose of Yovanovitch's hard-won wisdom for a career in foreign service, check out the conversation highlights below.
#1: Be yourself, not who you think you should be.
Early in her career, when President Reagan was in office, Yovanovitch was a staff assistant for the ambassador at the U.S. embassy in Great Britain. She observed the leadership styles of three male higher-ups and noticed that they each did things in his own way, but each was effective.
Most of Yovanovitch's role models were men. But realizing the diversity of their leadership styles, she realized she, too, could manage her career in her own way. "I didn't have to think 'What would a man do in this position?' It enabled me to be myself," she said.
"When you're comfortable with who you are, you can be much more effective, because everyone is going to recognize that."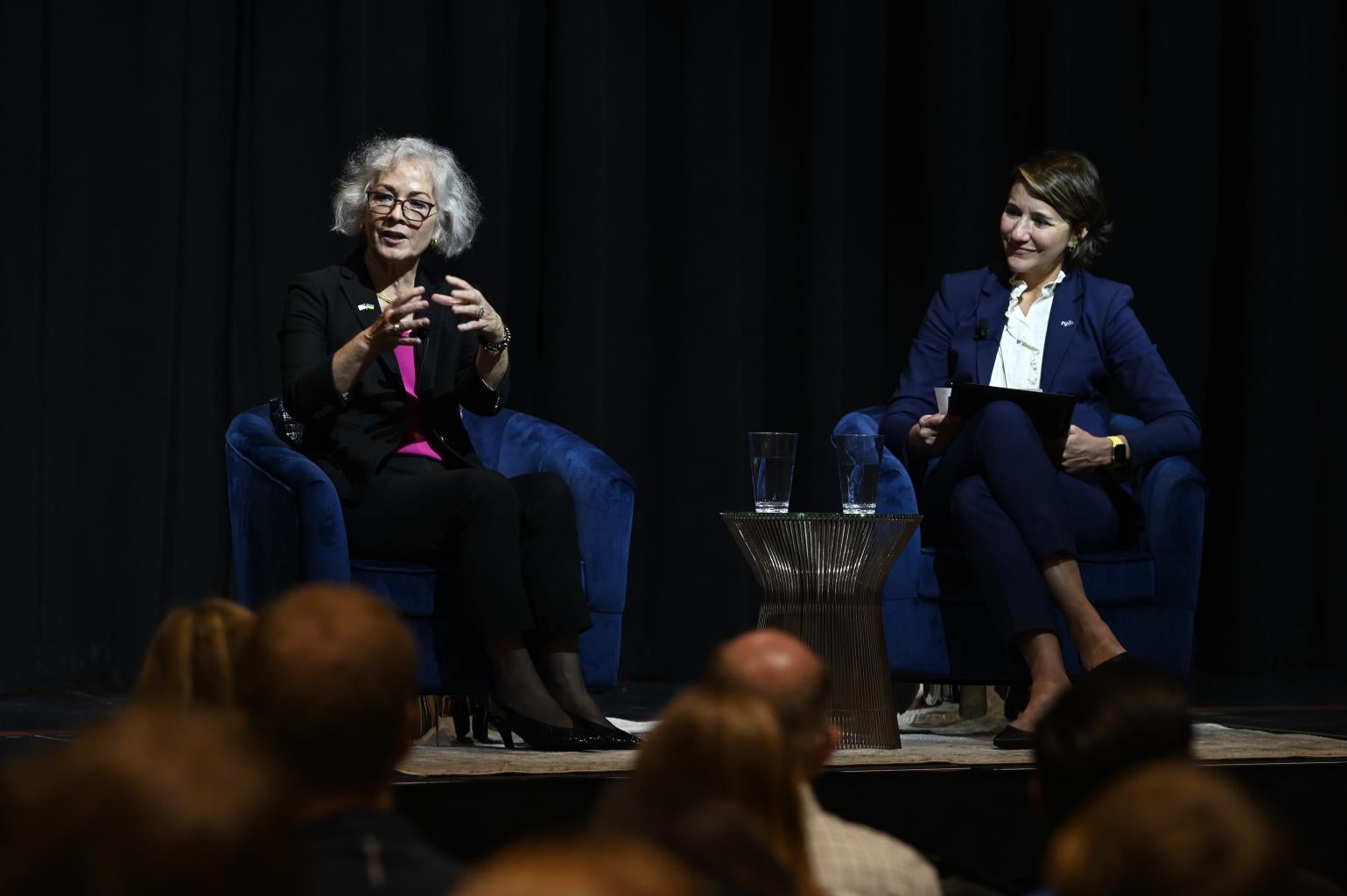 #2: Wake up every morning with a sense of possibility – or find a different line of work.
"I was doing the kind of work that I would pay someone else to have the opportunity to do!" said Yovanovitch. As a junior foreign service officer, Yovanovitch was thrilled that she was getting paid a salary to meet people, collect information, analyze it, send it back to Washington, and provide policy recommendations.
In 1993, when she arrived in Moscow, Yeltsin and the parliament had a violent confrontation. "Things never let up after that," she said. "Every morning, I would think, what's going to happen today?" She never knew what to expect, and what new challenges she had to face, but as a young officer, her work felt exciting and important.
"I had a 'Pinch me, is this really real?' kind of feeling, and I made myself a promise," said Yovanovitch. "If I lost that feeling, I would leave the foreign service." There was no point dragging herself across the globe if she didn't love it. "Fortunately for me, that feeling didn't leave."
#3: Exercise your integrity muscle, even when others are rolling their eyes.
Rules are there to protect us, insists Yovanovitch, and that starts with the miniscule things. For example: when offered a free upgrade on a plane back from an assignment, Yovanovitch declined. Foreign service officers have rules about what they cannot accept in the form of gifts, and a first-class seat was one of them. "The businesspeople would have to come back to economy to have consultations with me," she said, and they took note.
"You want an ambassador that is following the rules, not taking little gratuities here and there, which creates the belief that you'll do the right thing on the big issues."
She explained, "It's rare that someone will approach you with a $10 million dollar bribe for you to do the wrong thing. But you get hooked over time with smaller [favors] – and then, even if you want to stop, you can't, because whoever's paying you has the goods on you."
In the business of foreign service, there's not a clear path forward. "By the time I got a problem set, it's hard. By the time it goes to the president, it's impossible," said Yovanovitch. Out of the bad options and worse options, people need to trust that you're acting in the interest of the United States.
When the smear campaign began, and Yovanovitch was told that she should "indicate her loyalty to President Trump," she made the hardest decision that ended her 33-year career, but stuck to her guns.
"Every public servant is loyal to our government and to implementing the President's foreign policy. All of us swear an oath to the Constitution," said Yovanovitch. "Crucially, in the United States, we do not swear allegiance to an individual. One of the things the American Revolution was about was stopping that practice."
Yovanovitch was always in pursuit of American foreign policy. "I was pulled out [recalled] because I was following that policy," she said.
"It was my personal tragedy, but it had far greater implications for our national security."  
Lessons From the Edge: A Conversation with Marie Yovanovitch was recorded Thursday, October 13, 2022, in the William Pitt Union Assembly Room on the University of Pittsburgh's Oakland campus. The event was hosted by the Graduate School of Public and International Affairs (GSPIA).