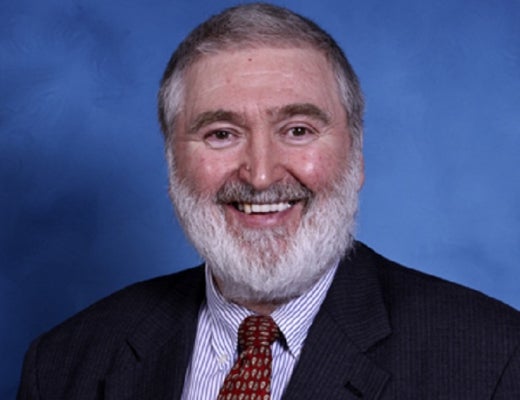 On June 9, Professor Phil Williams celebrated his retirement virtually with his colleagues, friends, and former students, who reflected on his many contributions to GSPIA, International Security Studies, and the University of Pittsburgh. 
Since joining GSPIA's faculty in 1990, Dr. Williams' teaching and research areas included security studies, foreign policy analysis, transnational organized crime, and terrorism. His contributions to the study of transnational organized crime are particularly notable; Dr. Williams conducted the Russian Contract Killer Database, a student working group which has compiled extensive evidence on Russian contract killings since the 1990s. 
In addition to teaching, Dr. Williams previously served as the Director of the Matthew B. Ridgway Center for International Security Studies and the Wesley W. Posvar Chair in International Security Studies, where he established a community for students to gain meaningful research experience, often in partnership with external organizations. 
Dr. Williams also contributed significantly to the visibility and impact of GSPIA's Master of Public and International Affairs (MPIA) Degree, and the concentration in Security and Intelligence Studies. 
Below are well wishes from former students and colleagues from Dr. Williams' retirement celebration, highlighting stories of his impact and legacy. 
The full Zoom recording can be viewed here. 
---
Carolyn Hoyt, former student: "Phil, your courses in money laundering and financing of terrorism opened my eyes and sparked my interest in international affairs and directed the rest of my course choices. I only wish I hadn't run out of electives! I feel privileged to have gotten to know you and learn so much from you." 
Sean Wolfgang, former student: "Phil's teaching and generous spirit continues to influence my career and how I think about the work that I do. And the opportunity he gave us students to work on real world research (flashback to the START Project!) gave me the skills and experience I use to this day. And because of Phil it was a lot of fun too! And in the years since, he's still advising me and even coming in to do a briefing for my colleagues at my last workplace. Thanks so much, Phil, and congratulations!" 
Michael Kenney, colleague: "I had the opportunity to join Phil as a colleague in these last 10 years of my career, which have been among the most rewarding to me. As the current Posvar chair and Director of the Matthew B. Ridgway Center for International Security Studies, Phil left very big shoes for me to fill. So, Phil, I want you to know that, even though you've stepped away from that role and you're stepping away now and transitioning to the next phase of your life, that that I'll still be modeling my career after you. You are still an influence, and don't be surprised if I continue to reach out to you on occasion and ask for help. I'm just so fortunate that I had a chance to work with you, so thank you." 
Jay Fisher, former student: "The network of students Phil taught enabled so many great experiences and opportunities and some of my fondest memories while I was at GSPIA - the Feral Cities project and the open source work for NASIC. The night before our group gave our Feral Cities briefing, we were already so well prepared because of Phil's guidance that it became an evening of irreverence and camaraderie that served us better than any murder board could." 
Besa Kabashi Ramaj, former student: "It was an honor to be your student and be able to learn so much about corruption and organized crime and its impact on a country's development, especially countries in transition. It has been amazing to see I was able to put all that knowledge to good use back in Kosovo, where I have been working in the area of national security and defense. I will forever treasure your calm attitude when addressing such serious subjects, and your patience with my learning process. I recently came across an organization that deals with organized crime globally, and Walter Kemp who works for it was shocked to know I was taught by you. I thought of how small the world is, especially for brilliant and humble people like you. I wish you the best and I sincerely hope we meet again, on this side of the world possibly."