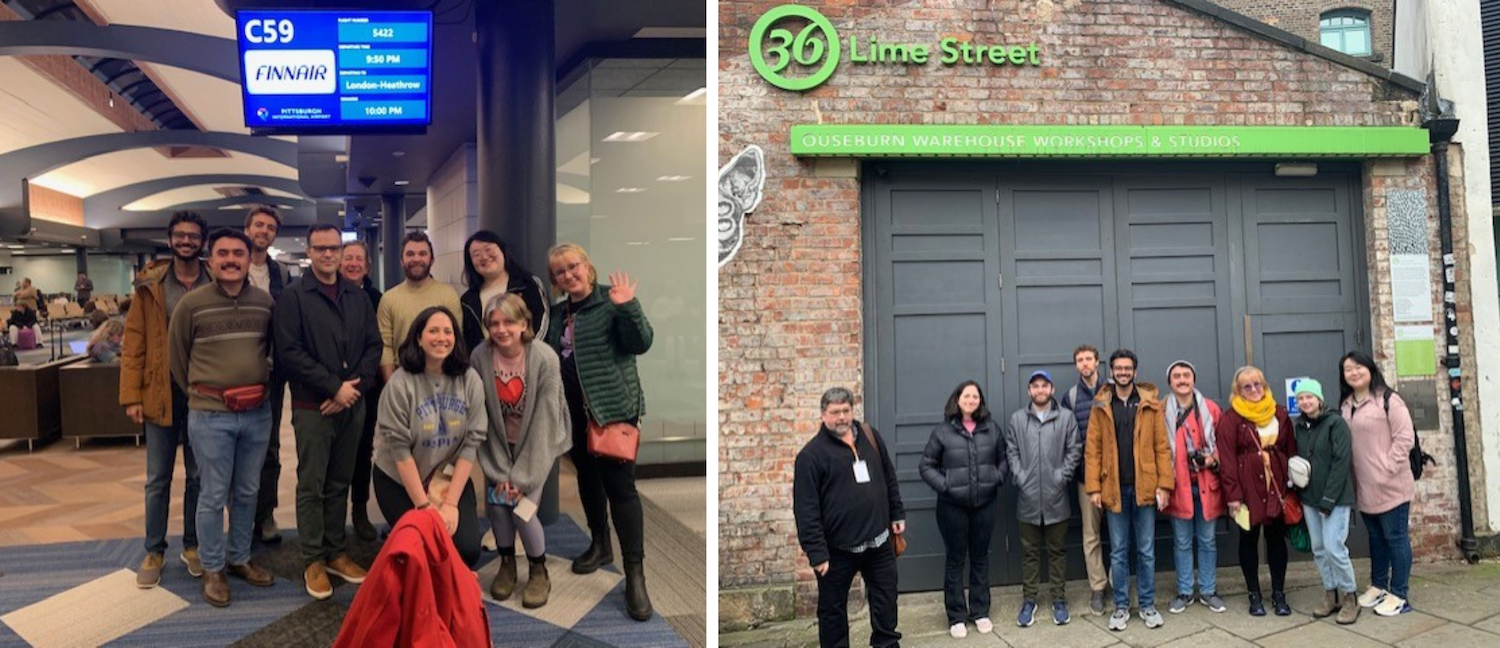 Over Spring break, eight GSPIA students engaged in international field research in Newcastle, UK, to study the changes that have occurred in the aftermath of the COVID-19 pandemic in the arts and culture sector, affecting both residents and artists in the neighborhood of Ouseburn.
The fully-funded trip was part of the GSPIA course Urban Cultural Regeneration After Crisis: International Comparative Research (PIA 2213), co-instructed by GSPIA Associate Professor Sabina Deitrick and Pitt's Urban Studies program director Michael Glass.
While in England, the students conducted interviews with over 40 government officials, arts organizations staff, artists, neighborhood activists, and other community and university stakeholders. 
"I'm glad I got to see field research in action, leaving with the realization that social and policy research is such a collective process," said student Clara Weibel. "I really appreciated the ways that interview participants helped inform my research approach. It felt great being able to co-develop questions and ideas with interviewees when we met," she said. 
"I developed a deeper awareness and appreciation of all the moving parts of field research," said Eric Macadangdang (MPA '23). "Beyond the scheduled interviews and site visits, I gained a lot of insights by chance encounters, observing interactions at key sites, or striking up a conversation with a local. You may not know at the moment because it's not built into your research itinerary, but those instances do greatly contribute to a more well-rounded account of an area, and ultimately a better research product." 
The students' work in Ouseburn assessed the current environment for the arts in the neighborhood, the continuing impacts of the pandemic and strategies to change some of those outcomes, and the impacts of changes in the property market and new housing in the neighborhood.
Organically through their interviews, many students were able to engage with the artists in unexpected, valuable, and enriching ways. 
"My favorite part was getting to join a local band for an interview, practice, and performance—they had a trombone I could borrow and everything! It was nice getting to feel like a participant in some of the cultural goings-on. I'm glad we got to meet and exchange stories, as I'm in a similar street band in Pittsburgh. We've been keeping in contact with each other about gigs and things since!" said Weibel. 
"My favorite memory was going up to Berwick-upon-Tweed, an English border town that has a rich history. I got to help interview a couple of artists in their home studio, where they showed us such hospitality and shared their experiences as long-time artists in the region," said Macadangdang. "We had some homemade banana bread and they showed us their artwork, all while grounding us in how policies in the cultural sector actually affect artists and creatives. I will never forget them." 
"My favorite part of our trip to Newcastle was Friday night, a few days before we were set to leave. We had all just finished a whirlwind of a week and were looking forward to taking in a relaxing evening, watching "Love It If We Beat Them" a play taking place in Newcastle in 1996 about football (soccer) season and politics, said Martin Eddy Harvey (MPA '24). "The play was wonderful, and it felt like a perfect way to cap off a week spent researching culture." 
When the class returned, they analyzed the data they collected, developing an understanding of the post-COVID impacts and changes between Newcastle and Pittsburgh, and wrote a set of final documents for the class that includes individual case study reports, an executive summary, final comprehensive report, and final presentation held over Zoom to include their international stakeholders in the UK.
This research was possible with the support of the Erasmus+ Programme of the European Union.