It is my great pleasure to serve as the Dean of the University of Pittsburgh's Graduate School of Public and International Affairs.  GSPIA has a long history as one of the oldest schools of public and international affairs in the US and we are building an even more inspiring trajectory as we look ahead.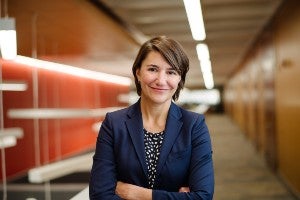 I am truly inspired every day by our amazing students, faculty, and staff.  There's something special about this place.  I see a unique combination of passion and expertise, a commitment to excellence in all that we do combined with a sense of practicality for real world impact. 
Whether you're reading this message as a prospective student or faculty member, as an alum interested in reconnecting, or as a partner looking to collaborate, we are eager to get to know you.  We're excited to share insights on our cutting edge research and its connections to our curriculum, our strategy for local to global engagement, and our deep commitment to diversity, equity, and inclusion. 
We can't wait to tell you more about the tremendous assets at the University of Pittsburgh, one of the top ranked public research universities in the US, as well as about our wonderful community of Pittsburgh.  I would love to share more and look forward to hearing from you.
– Dr. Carissa Schively Slotterback
Meet Dean Slotterback
Dr. Slotterback was named dean of the Graduate School of Public and International Affairs (GSPIA) in 2020. She is widely recognized for her research and teaching on public engagement and decision making in environmental, land use, and transportation planning. She has also championed multiple initiatives in interdisciplinary and engaged research and education, and has held a number of leadership roles with the Association of Collegiate Schools of Planning.
Email Dean Slotterback at cslotterback@pitt.edu.